Hygiene and sanitation - Rural India
In India, over half of the population (of 1.2 billion people) do not have toilets. The role of cleanliness, particularly that related to the matter of toilets, is a controversial subject in India -- with taboos and the caste system playing important roles in society.
Our task: To further design and construct a prototype of a self-cleaning toilet made with Environmental Sanitation Institute in Sughad, India. We decided to focus on the waste management system. While keeping in mind the culture and practices in India, we complemented our design with the typical double pit latrine system, with separate containers for liquid and solid waste. We designed with the community, holding bi-weekly conference calls with the Environmental Sanitation Institute.
Accomplishments: Through the Center Philanthropy and Civil Society at Stanford, I was funded to go to India to conduct field work on my personal research questions. I was also the TA for ME 177: Global Engineers' Education (Spring 2014), preparing course materials and holding office hours for students.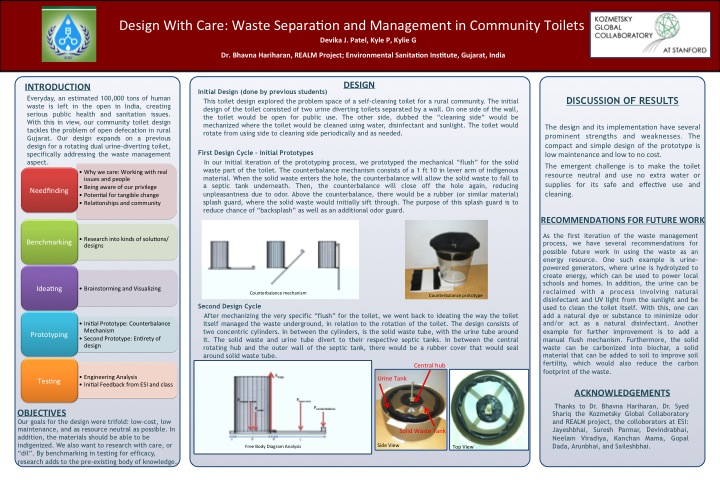 My journey with sanitation didn't end with taking ME177. In the summer of 2014, I, along with two other undergraduate researchers, embarked on developing our care statements in the context of sanitation and hygiene in rural India.
After reflecting on my own experiences, as well as the experiences of my mother and grandmother, who both grew up in less than ideal situations in rural India, I realized I cared about women's health in the context of situation, and I cared about working with the taboos that constrict and overwhelm women's health issues, particularly reproductive health and menstrual hygiene.
I spent the summer conducting an in-depth literature review regarding my care statement, and in August 2014, I travelled to Ahmedabad, Gujarat for 3 weeks. In this time, I travelled from village to village to learn from community members and hold focus groups and discussions to gain more insight on my research questions.
I went to Oxford to study Global Women's Health, wrote my honors thesis on preparing engineering students to work on taboo issues through the Graduate School of Education and went on my second trip to India in December 2015.